Will Menton take it on the chin?
Barbara Lynch's new place,
Menton
, opens April 3. We're going to check it out April 10.

I don't normally get giddy about an opening (especially since my hopes for Guy Martin's
Sensing
were dashed), but this is different.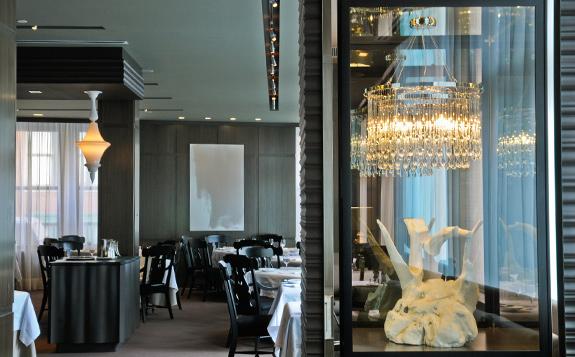 See more shots of

Menton's interior

at UrbanDaddy



Menton is in Fort Point Channel, still not a well-traveled destination for diners. It will offer just two menus: a $95 four-course prix fixe and a $145 seven-course tasting menu. Given the current state of the economy, this is a big risk.

The
Boston Globe
had a nice
profile of Lynch
last December that outlined the challenges of opening a high-end resto in a recession.

So why am I excited? Maybe it's because I keep finding stories about Menton's imminent opening, like today's Grub Street inside look at a
server-training session
(who knew people had to be instructed in how to keep their limbs to themselves?).

Maybe it's because I'm a sucker for the style of cooking Menton promises: Provençal-Mediterranean, with lots of seasonal ingredients, lemons, seafood.

Or ... maybe it's this, from Lynch's
ZesterDaily interview
with Louisa Kasdon:
What's the best dish on Menton's menu?


Butter soup. You'll want to take a bath in it. It's 87 percent butterfat with butter from Diane St. Clair's Animal Farm in Vermont. We make a butter sauce and poach local shellfish, razor clams and little flippers from the lobster tail. We add a dollop of caviar from Iran, and whip a honey emulsion into a foam.
Yeah ... I think that's what it is.
Labels: Boston restaurants, butter soup, lynch, menton