Felicidades Fina and goodnight Irene
I had planned to spend today writing about Restaurant Week, and the fifth consecutive visit that Lovely Co-Worker Sarah and I had planned for lunch at L'Espalier.

And then Irene happened. (To rub it in, she's hurling herself against our windows right now.)

See, last weekend we went down to Puerto Rico to celebrate The Boy's grandmother's hundredth (!) birthday. The plan was to fly in on Saturday, help set up the function room, have a blast on Sunday, and fly back Monday.

The first part of the plan went very well.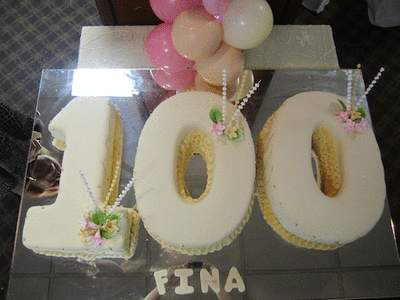 The birthday girl:




Despite the fact that we knew a hurricane was coming, we were pretty confident that we'd make it out. But then Irene descended, knocking out power to most of the island (including the airport). On Monday morning, our flight was canceled.

The Boy made a call to JetBlue. The next available flight was ... Thursday.

Now, it could have been worse. There were 90,000 people without drinking water; roads were flooded, trees were down, traffic lights were out. Our only problems were not having clean clothes for a couple of days and having to use up the little vacation time accrued since I finished treatment and went back to work.

With the power out (except for the single line from the neighbor's back-up generator to run the fridge and charge our phones) and a forecast of torrential thunderstorms for the next few days, we settled into a routine of Trivial Pursuit and eating.

Luckily, the power was on at some good restaurants.

Metropol (beware! Website is Flash and has music!) supplied us with avocado salad ('tis the season), ham croquetas, and a fabulous Ropa Vieja:




At Zayas in Hato Rey, there was a very tender empanada de pollo with rice and beans. Oh, and avocado.




At La Parrillada Argentina there was a rich, dark morcilla, served with olive oil-whipped mashed potato:




But it wasn't all meat and fried. On Wednesday, once the worst of the rain had passed, we went to the Plaza del Mercado in Rio Piedras to pick up veggies for lunch.




Oh, and avocado.




The Boy's mom put together a beautiful salt-cod salad:




with a variety of local root veggies.

(Before)




(After)




So while our stay was longer than we had anticipated, it was great. We got to spend extra days with the family; we had some peaceful down-time; and — as is always the case in Puerto Rico — we ate very, very well.




So as long as you don't do too much damage up here, Irene, we'll say nothing more about it. Except perhaps goodnight.

Labels: dining, food, l'espalier, Puerto Rican food, restaurant week, rice and beans